CD5: Next Steps Project Stage 2: "Connections"
To go to NextStepsProjects (2006) click here.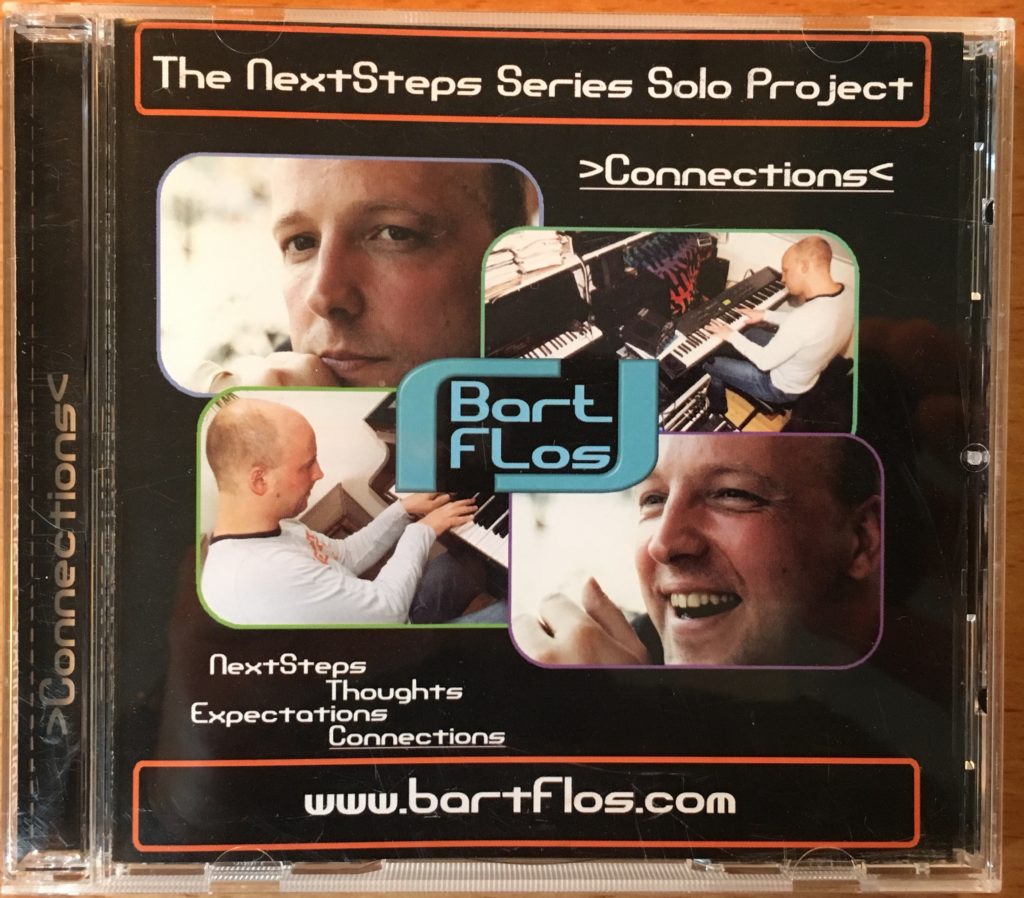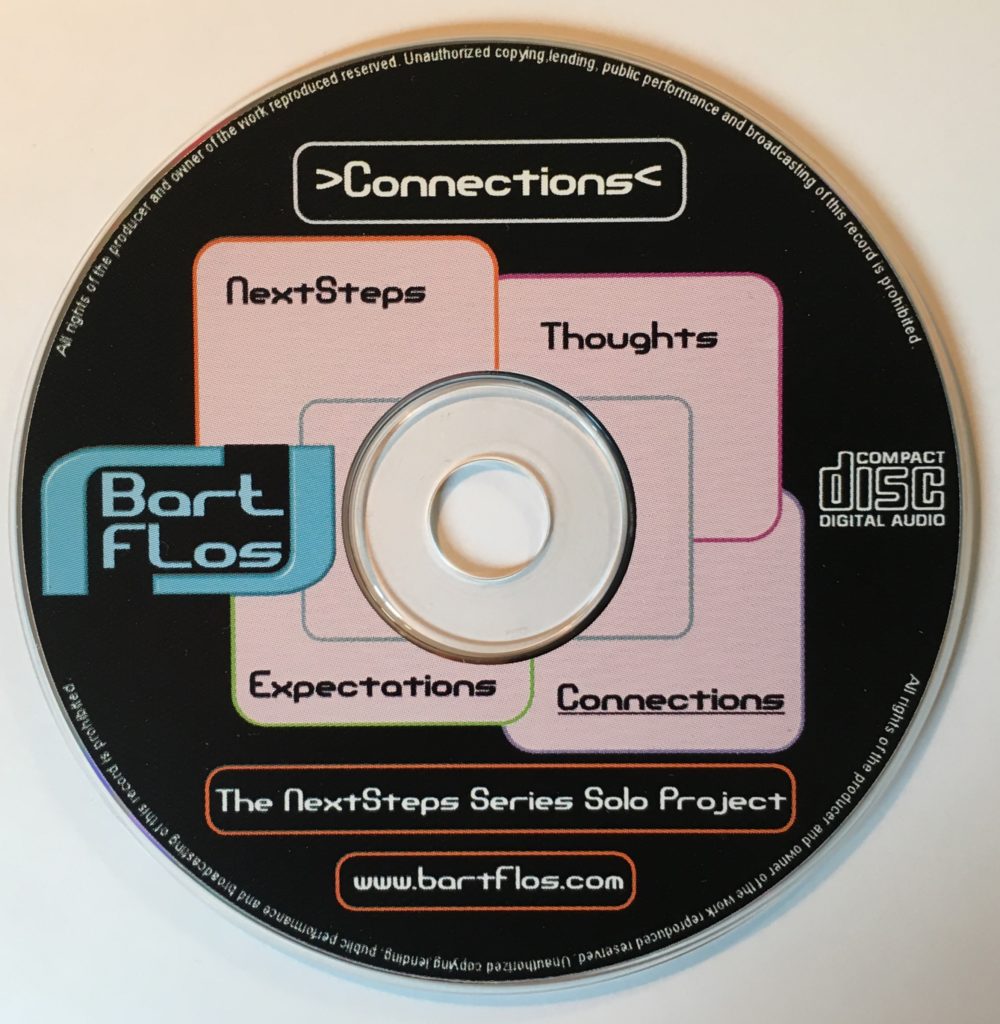 About the music
Most of the tracks on this CD are played real time and are unedited in terms of cutting and pasting. What you hear is what's been played. It allows me to both seek for new sounds, melodies and songs and to record any spontaneous song that pops up, depending on my mood. It's a great way to reach a professional recording by relatively simple methods and tools and in a relatively short period of time.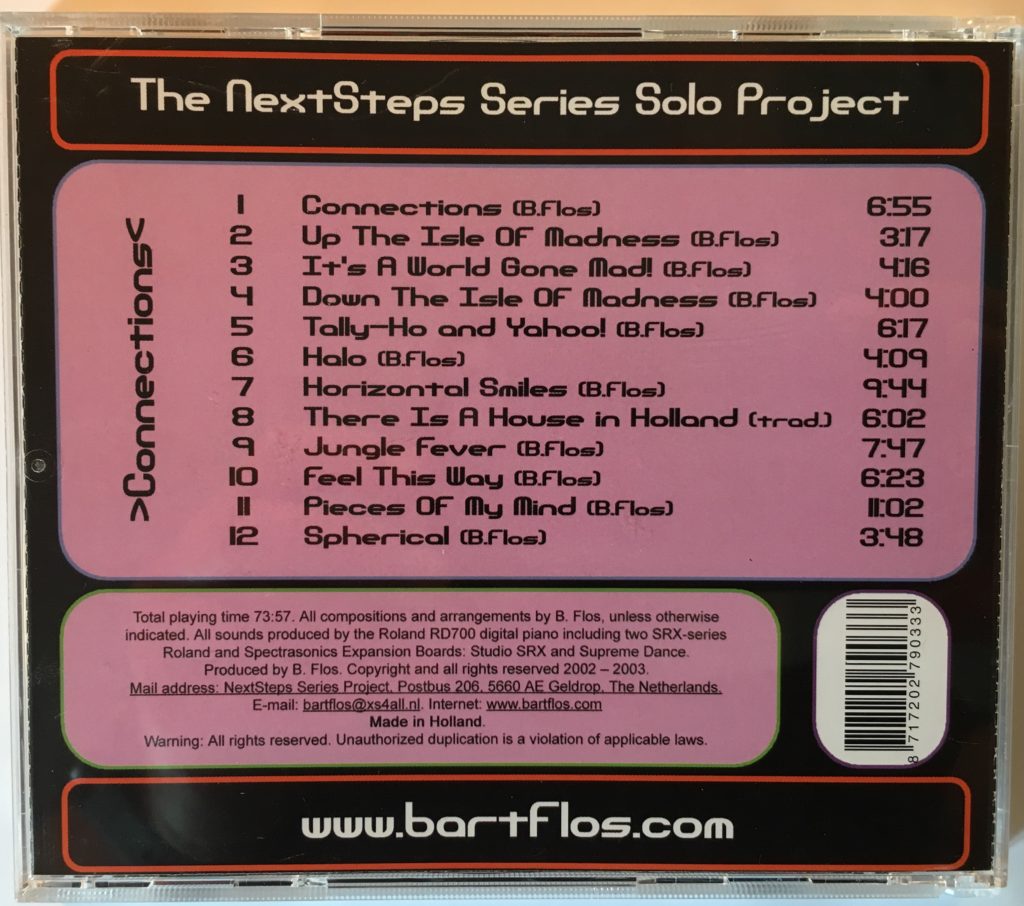 And don't forget: by recording four tracks simultaneously you experience the effect of direct stimulant on what's being played. This compared to recording track by track in which case already recorded tracks are not able to 'respond' to what's happening at that moment.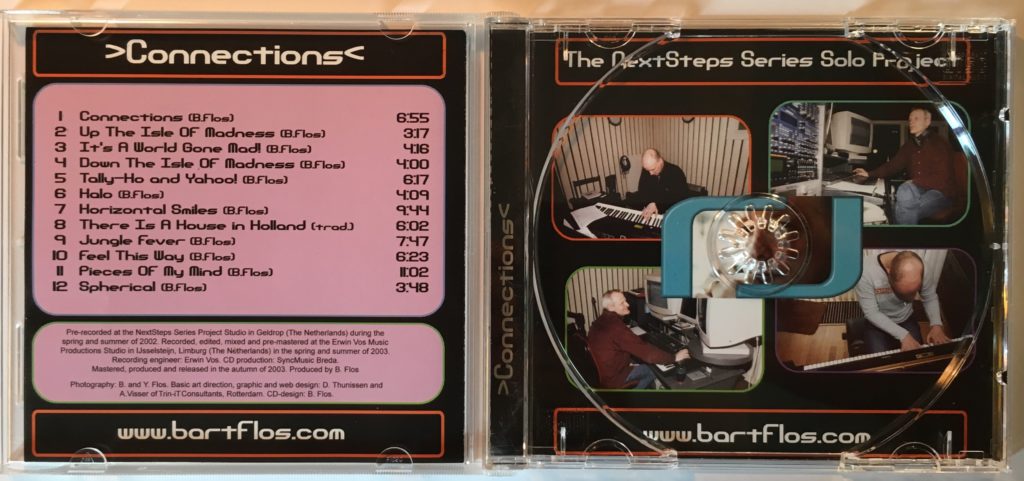 Ultimately, by the way, it is my ambition to play with "living" musicians and my latest work makes it easier to say, "this is what I want to do" and to relate that to others. During the course of about three-quarters of a year I recorded about 30 minidisks with over 300 tracks that were the bases of these new solo CD's. Hopefully it will give you an impression of what I like in music, which styles I prefer and which combinations of styles are possible. The sky is the limit, folks!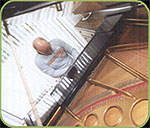 Connections
This fifth CD, Connections, consists of songs and compositions that are a combination of jazz, blues and pop with dance, house, techno and jungle. As stated before it has never been my ambition to compete with all the professionals and specialists on this field. It is just my way of pointing into possible directions of collaboration and new fusion of styles. Ultimately I hope to be able to connect and do more projects with musicians that have specialised in this field and in these new forms of music.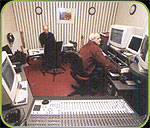 And last but not least, I hope to show that it is a lot of fun to take a step towards relatively new combinations of musical styles, especially as a jazz or blues musician. Well, listen for yourself.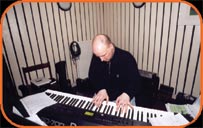 About the songs
As explained before, the NextSteps Series Solo Project is based on preparation work in my mini studio. Most of the songs are pre-recorded on mini disc and subsequently pre-mastered in a professional studio. During the course of the project I have chosen to add tracks to particular songs to complete my original idea's of the compositions or even to completely compose and record a new song in the main studio. This is explained with the [prefixes] in the text of each song below:
| | |
| --- | --- |
| [OTR] | One Time Recording of the complete composition in real time: pre-mix set in the mini studio, no tracks added, no editing within the composition apart from pre-mastering. |
| [OTR/ ] | One Time Recording of the core song: limited tracks added in the main studio, possible editing within the composition (introductions, endings). |
| [MTR/-] | Multi Track Recording: based on basic track(s) recorded in my studio, multiple tracks added, possible editing within the composition (introductions, endings). |
| MTR/ ] | Multi Track Recording 'from scratch': track by track composed, arranged, recorded and pre-mastered in the main studio. |
From five tracks you can listen to the audio track sample below:
1 Connections (B.Flos) 6:55 [MTR/ ]
This is the lead song of this album. This melody has been lingering in my head a long time before I had a chance to record in a more contemporary style. The RD700 provided the techno-house beat and the groovy sounds of which I used a few great ones from the expansion board 'Supreme Dance'. I recorded multiple tracks to add to the atmosphere of the composition but it is basically a 'pop' type of house song.
2 Up The Isle Of Madness (B.Flos) 3:17 [MTR/ ]
This started as a joke surrounding the recording of It's A World Gone Mad. Tracks 2, 3 and 4 are actually one complete song of over 8 minutes but you have to walk up the isle of madness to reach the core song and down the isle again to reach the exit. The isle itself aims to create the impression that you are walking up the corridors of a music school (footsteps, heart beat), hearing musicians practicing and rehearsing their music. You can hear all kinds of instruments left and right, of course real time recorded on the RD700.
At the end of the corridor you reach a room in which the world has gone mad. Big hits and beats and squeaky voices lead you in there and than you're trapped for more than 4 minutes.
3 It's A World Gone Mad (B.Flos) 4:16 [OTR/ ]
This is the core song of all the madness. After the pre-recording in my studio I have added a strong acoustic blues piano to it with a weird free piano solo in the middle, fighting the bass player and trying to get him off of my back. Towards the end of the song you are meant to turn around and step back out of this room where the big hits and beats and voices push you to walk down the isle again.
4 Down The Isle If Madness (B.Flos) 4:00 [MTR/ ]
The same musicians are still rehearsing their music as you walk back. You can hear them left and right again as you move towards the exit, heart pounding and steps echoing. There is the door; just open it again, step out of it and leave this place. I will not give away the ending here, but just listen to the song all the way through and you will hear what I mean with the madness of this world…
If it started out as a joke why not end it with a joke?
5 Tally-Ho and Yahoo! (B.Flos) 6:17 [MTR/ ]
Another contemporary house song completely recorded in the main studio. The melody tracks were prepared in my home studio but all the different tracks were added in the main studio. It's basically a 'samba in disguise' and hopes to combine the atmospheres of both latin and house music.
6 Halo (B.Flos) 4:09 [OTR]
For this composition I used one of the many great ambient sounds of the RD700. It creates a magnificent atmosphere by using both low and high registers and this particular sound patch inspires me to combine changing chords on dark and deep down pedal bases until the song 'breaks'.
7 Horizontal Smiles (B.Flos) 9:44 [MTR/-]
Starting out with the ancient scratch of an LP, this composition is a good example of the combination of more contemporary music with jazz and funky influences. The core song has been pre-recorded in my studio and the introduction and endings were set up in the main studio. The Fender Rhodes provides the minor blues melody and chords whilst the flutes lay down the carpet. The bass combined with the house beat again provides a samba-like feel to the song.
8 There Is A House In Holland (trad.) 6:02 [OTR/ ]
If you are a Dutch native and really listen carefully you might hear reminiscent elements of the Dutch traditional folk song "In Holland Staat Een Huis". If you are not, you will hear a pop-like song with an easy listening Fender improvisation and some duo melody lines with the fretless base. It's just a friendly, easygoing pop song. Drums, chords and ambient sounds were pre-recorded. The melody and improvisation were added in the main studio.
9 Jungle Fever (B.Flos) 7:47 [OTR/ ]
'Jungle' is a typical contemporary style of music that incorporates the characteristic absence of a bass note on the first beat of each bar. I wanted to combine this beat with Fender Rhodes improvisations, which was pre-recorded in my home studio. The introduction and background ambient sounds were added in the main studio. If you like this kind of music you will find the extended version of Jungle Fever under Bonus Tracks in this part of my web site.
10 Feel This Way (B.Flos) 6:23 [OTR]
This ballad is based on the same drum patch as There Is A House In Holland but this time no tracks are added. What you hear is how it has been pre-recorded at the time. This is relaxing pop music with jazz and blues influences.
11 Pieces Of My Mind (B.Flos) 11:02 [OTR]
Back to my roots again: solo on the Fender Rhodes. The Rhodes on the RD700 sounds even better than on the RD600 and both attack and sustain have been improved. It has a great low base to use when improvising which creates great opportunities to 'jazz and funk around'. This is a one time / real time recording from beginning to end and it contains different styles and beats of feel and music.
12 Spherical (B.Flos) 3:48 [OTR]
For this composition I again used one of the many great ambient sounds of the RD700. It creates a magnificent atmosphere by using both low and high registers and this particular sound patch again inspired me to combine changing chords on dark and deep down pedal bases. Just sit back, relax and enjoy the ride…