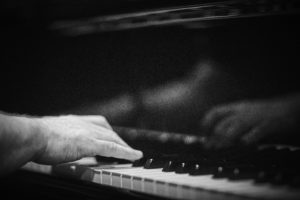 Please note: you can also find video material under the sub-menu NextStepsProjects. On this page a small sample selection of available video's is published. Thank you.
Chilled Out
This composition is part of the NextSteps Series Solo Projects Stage 5. These are real time improvisations (WYHIHIBEP: What You Hear Is How It's Been Played 😉 ) as performed in my midi-studio. Skip to 2:30 minutes if you want to hear the B3 kick in.
Blue Groove
A combination of an acoustic bass and a Fender Rhodes piano that kicks in at around 2:15 minutes:
From a live piano concert 'Frames of mind': Part 3 | Look, they're kissing!
From a live piano concert 'Contemplations', Part 2:
From a special project with The Sonic Blast Big Band from Eindhoven featuring Ack van Rooijen:
Walkin' Tiptoe:
Mr. Dodo:
Kong's Garden: